High Performance Wi-Fi Router
Wi-Fi Class: AC2400 (600Mbps at 2.4GHz, 1800Mbps at 5GHz)
Three(3) 10/100/1000 Mbps- 1 WAN & 2 LAN Gigabit Ethernet ports
USB 3.0 port for media sharing and network print server
Advanced Wi-Fi : MAC ON THE FLY Architecture
MU-MIMO – multiple devices to get high-bandwidth Wi-Fi signal at the same time
AnyClient Beam Forming – ensure maximum Wi-Fi coverage to all of the 128 clients connected
VPN Server & Client Support – secure remote access for privacy
Guest Network Access – separate Wi-Fi network for your guest
IPv6 Support (Internet Protocol Version 6)
Meet T9 AC2400
The T9 AC2400 includes LED lighting,
adding convenience and value to your home Wi-Fi network,
in a design that is both fashionable and trendy.
Advanced Wi-Fi : MAC ON THE FLY Architecture
Smart WiFi packet transport, with advanced MAC ON THE FLY architecture, that maintains Wi-Fi throughput even with high client usage.
T9 AC2400 multi-client Gain 25%+ VS. Competition's AP with 15 clients
Device list
– Samsung Galaxy S5, Xiaomi MI3, Apple iPhone 6, Asus Zenfone Selfie, Google Nexus 5X, Samsung Galaxy S7, Xiaomi MI Note, Apple iPad Air 2, Apple iPhone 6s, HTC One M9, Samsung Galaxy S6, Xiaomi MI4i, Apple iPad Mini 4, Apple iPhone 5s, Microsoft Surface 3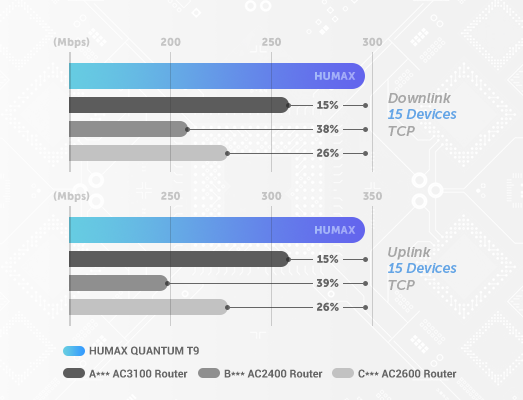 Powerful Security Protecting Your Digital life
HUMAX Netsafe powered by McAfee™ offers the strongest online safety and security by combining automatic vulnerability detection, malicious site blocking, and parental controls.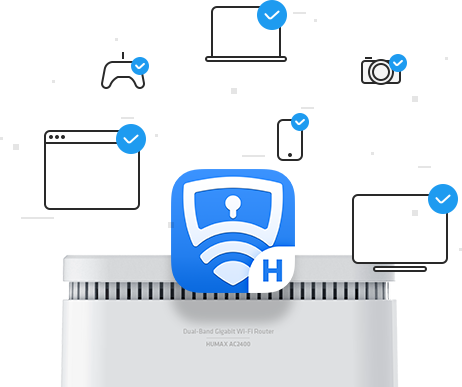 Ultimate USB3.0 speed
and versatility
High-performance storage software powered
by Tuxera improves data transfer speeds for USB3.0
More Streaming for Everyone with MU-MIMO Technology
The T9 AC2400 does more than just create faster Wi-Fi, it helps your devices achieve optimal performance by making communication more efficient. With MU-MIMO technology, the T9 can provide four simultaneous data streams, allowing all connected devices to achieve speeds up to 4X faster than standard AC routers.